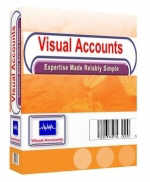 ---
Hi and welcome to the FREE tutorials page.
Each one is written from 'real life' experience and is designed to help you to unlock the all the power of Visual Accounts 2000.
The links on ths page will take you to the online versions of the tutorials.
If you wish you can also have them as ebooks - electronic books that will display on your computer for you to read and refer to whenever you like.
To see the online versions continue with this page
To download the ebooks CLICK HERE
| | |
| --- | --- |
| So, do you want to feel like this about 'doing the accounts' or would you rather | |
| make some of this | |
No excuses, it's all here for you, you can make doing your accounts fun, satisfying and above all - profitable!
Just click on the cover picture to go to the utorial
| | |
| --- | --- |
| | This edition looks at the basic Filters available in VA and shows you how to set them up and harness them to give you crucial information in a couple of mouse clicks! |
| Last time we looked at Default Filters, or some of them. This time I thought we would look a little more deeply into filtering and how to get useful information in a couple of mouse clicks. | |
| | Categories and how to make them really work for you. Also various other "nuggets"which don't fit into any particular niche. |
| Chase the late payers and learn how to use some of the powerful tools in Visual Accounts 2000 | |
| | In the 2nd of our 2 parter dealing with using VA2000 to get more mony into your business we look at how to use Mail Merge to sell more goods and services |
| How to get all the reports you need at the push of a button! | |
If you want to visit the VA web site
If you'd like the tutorials sent to you as 6 daily emails just fill in the form below and press suscribe.
HINT! If you want to see pictures in the tutorial you MUST select the HTML version
There are 6 tutorials in all and you'll receive them at the rate of 1 per day for 6 days. Each one will have an unsubscribe link which means you can stop receiving them at any time.